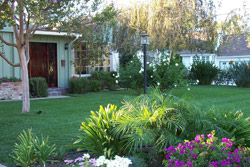 Welcome to EncinoWoods.com,
an online extension of the Encino Woods News. The website is a labor of love for my favorite neighborhood in Encino, California. For those of you who don't know about Encino Woods, we are a small little neighborhood, beloved by many who know of our little slice of Encino. Technically, Encino Woods is bounded by Hayvenhurst to the West, Libbit to the East, Ventura Boulevard to the South and the 101 freeway to the North. A lot of the charm of this neighborhood is the larger than average lot size, usually around 9000 square feet, with big front lawns, accented by wonderful landscaping, lots of trees and many ranch style homes. Most of the homes were built in the late 1940's and early 1950's. People take a lot of pride in their homes and in the neighborhood, and it is my hope to provide the residents and future residents with useful information as well as being a one stop shop of resources.
The site offers community links and resources, the current as well as past issues of the Encino Woods News, and a link to the Encino Woods Facebook Page, where I hope we can stimulate conversation, concerns and community. There is also a place to look for real estate. If you are interested in Real Estate, I encourage you to go to www.jodiefrancisco.com, where I have more resources for you to use for all of your real estate needs.
As always, I welcome your comments, feedback and most of all participation. This is your community and I am honored to be a part of it.